Expert Siding Installation Contractors in Charlotte, Gastonia, and Rock Hill
Quality siding will protect your home and boost curb appeal in NC and SC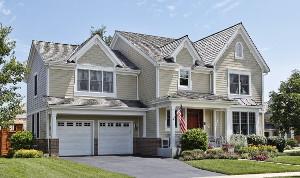 Transform your home. Siding can completely change the look of your home and boost curb appeal and property value.
Installing new siding on your home will raise your curb appeal and property value, and it can even help with insulation and energy efficiency. We provide quality vinyl and fiber cement siding materials to choose from, giving you plenty of options to find the perfect siding design for your home.
Worn or damaged siding can lead to weather damage, insects, and property devaluation. TruGuard is an Elite Preferred Installer of James Hardie fiber cement siding as well as Mastic vinyl products, both of which provide a superior long-term solution. James Hardie products are engineered to withstand the conditions of our southern climate, enhance the visual appeal of your home, and add lasting value.
We offer free estimates on all our work in North Carolina and South Carolina, so call us today at 1-855-205-6872 or click below to get started on your home siding upgrade.
Siding Jobs in Your Area!
Types of siding available in Charlotte
At TruGuard, we offer both vinyl and fiber cement siding materials for your home:
Vinyl siding: Vinyl siding is the most popular residential siding material, providing excellent affordability, durability, and versatility. Vinyl is very low maintenance and easy to clean. There are a wide variety of colors and styles to choose from, so you can design just about any look you can think of your home. Even better, vinyl can be made to match the appearance of materials such as cedar shingles.
Fiber cement siding: Fiber cement is made from a mixture of cement, sand, wood fiber, and clay, and is one of the most durable siding materials available. Fiber cement is often used to replicate the appearance of materials such as wood, stone, and stucco. You can easily paint fiber cement any color you choose, though weather exposure will eventually cause it to require re-painting. Fiber cement holds up very well against severe weather, and it is also fire and insect resistant.
FAQs about TruGuard siding installation
When do I know I have a problem with my siding? Most people can tell there is a problem with their siding just by looking at it. Your siding needs attention if you see holes, gaps, buckling, peeling, chipping, missing sections, major dents or cracks. If holes are left unattended, you risk allowing various dangerous elements to reach the inside of your home. By maintaining your siding, you'll protect the value of your home as well as the comfort and safety of those living in it.
What is the composition of HardiePlank® siding? Only the finest raw materials are used for HardiePlank®. Premium cement, finely ground sand, natural cellulose (wood) fibers, and water are combined and cured through a proprietary manufacturing process to create the most durable siding material on earth.
Is HardiePlank® resistant to mold? Yes. HardiePlank® is sealed to keep out moisture. The coating contains mildicide to protect against mold growth. If dirt is splattered against the coating and mold grows on the dirt, the coating cleans easily with water from a garden hose.
Is HardiePlank® resistant to damage from insects and weather? Termites and other wood-eating insects can't penetrate HardiePlank®. The product is also resistant to damage from hail, freezing temperatures, rain, and humidity.
What is the advantage of HardiePlank® compared to vinyl siding? Only HardiePlank® provides a lifetime solution to your siding problems and gives your home the look and feel of real wood. HardiePlank® is incredibly durable and will not rot, warp, or burn. It is dimensionally stable and it won't expand or contract like vinyl siding.
Should I replace my windows when I replace the siding? It is cheaper and easier to replace the windows when you replace the siding. However, the window replacement can be performed later if you prefer.
Get a quality siding upgrade for your North Carolina and South Carolina home
At TruGuard, we understand the challenges of finding the right siding material for your home. Our trained professionals will work with you to ensure that you get exactly what you need for your needs and for the appearance that you are looking to achieve. The benefits of our siding installation services include:
Recommendations on the siding that best suits your home, location, and aesthetic preference
Expert installation of the highest quality siding on the market
Beautiful, maintenance-free siding that's guaranteed to last
Optional window replacement during siding installation
New siding offers great benefits for your home, so don't wait to call us for an upgrade! We offer free estimates on all our siding installations and other exterior improvement services in Concord, Charlotte, Gastonia, Matthews, Rock Hill, Huntersville, Pineville, Kannapolis, Indian Trail, Mooresville and the surrounding areas.